A Merkaba is a vehicle of light. There is some confusion in regards to the origin of the Merkaba. Some say it comes from Jewish Mysticism and others will say it is from Egypt.
Both schools of thought are likely not far from the truth for the mysticism of the Kabbalah has it's roots in the region of Egypt.
Egyptian Hieroglyphics
My personal perspective is that these two traditions are pretty much one in the same and branched out from there, lending to many similarities and parallels in the two studies.
On the Hebrew side of things, Merkaba means chariot and is seen in the Bible, Ezekiel 1:4-26
Ezekiel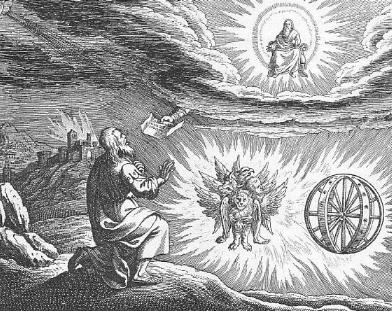 Merkaba is actually three smaller words combined.
Mer; meaning Light, a certain kind of light. This light consists of two counter-rotating fields spinning in the same space.
Ka; meaning Spirit, the spirit of an individual
Ba; meaning Body, the human body and the physical dimensions of human reality as we are accustomed to seeing it.
Merkaba Energy-light field
The Merkaba is used to connect and ascend into the higher and lower realms of Spirit and the Universe, it is an inter dimensional vehicle.
The Merkaba also has it's place in Sacred Geometry and Alchemy. The Merkaba takes two pyramid shapes and puts them 'into' each other in opposition. This creates a Star Tetrahedron.
It is no wonder that when one looks at the 2 dimensional image of a Merkaba it is the Star of David, which is most recognized as a Jewish symbol.
In Alchemy and magical studies, this star shape is seen again, representing the All.
The Merkaba is found in Sacred Geometry within the Flower of Life is a The Flower of Life is where the structure of life all is found.
Leonardo da Vinci's Vitruvian Man fits into the Flower of Life.
Many crop circles can be superimposed into this Flower of Life.
Ancient cultures would build using the principles of the Flower of Life and Sacred Geometry.